Adding Content
Using the Content Tool
The following short videos will introduce you to some of the basic "How-To's" with respect to adding material using the content tool.
More detailed information can be found at Brightspace Help.
You may also wish to download a PDF copy of these guides to view on your computer. Click this Content Tool Guide for Instructors link to do so.
How to Add a Module
How to Upload a Topic
How Do I Upload a File to Course Content?
From within a module, click Upload/Create. Then click Upload Files.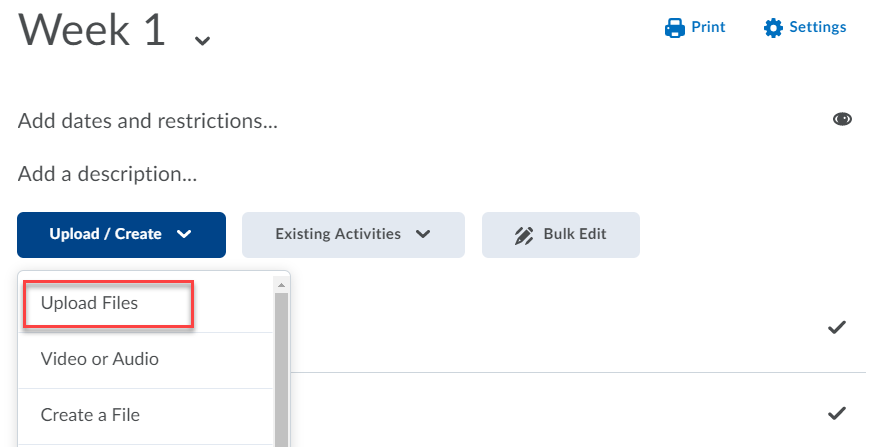 From the Add a File window, click My Computer to access a file that is stored on your computer. (Alternatively, you can click Course Offering Files to access a file that is already stored in the course offering files area.)
Click Upload. Locate and select the file you wish to upload. Click Open. Clicking Choose Destination will enable you to change the folder where the file will be stored in your course offering files. Click Add.
How to Create a File and Insert Stuff
How to Add an Existing Activity (Discussion, Assignments, Quiz, etc.)
How to Delete a Module
How to Rearrange Topics, Modules and Submodules
How to Attach a Release Condition to a Topic
How to Create a Video Topic
How to Create an Audio Topic
How to Track Content Completion
How to Upload Files via Manage Files