Webex
Memorial has purchased an enterprise license for Cisco Webex. Webex can be used as an alternative to Online Rooms for teaching an online synchronous session.
In order to use the system, all instructors must request an account from the Information Technology Services (ITS). To request your account, please go here.
Webex can be integrated directly into Brightspace for instructors and students. Once you have a Webex account set up, follow these steps to integrate it with Brightspace.
The following instructions highlight how to first set up your account and show you the Webex dashboard, which is important to know for both integrated and non-integrated Webex usage.
Getting Started
Once you have requested your account from ITS, you will receive an email from webex_comm@webex.com indicating that Memorial University of Newfoundland has invited you to Cisco Webex. Review the email. You will be asked to activate the account, and the email will contain a link to complete the activation process. Once you complete that, you will be redirected to the domain https://mun.webex.com/. This is your springboard for creating and hosting sessions.
You will want to determine if your desktop computer meets the networking requirements to participate in meetings. Cisco has developed an online utility called the Cisco Webex Network Test. To find the utility, click here and follow the steps. The Test Results page will provide a summary of your computer's performance.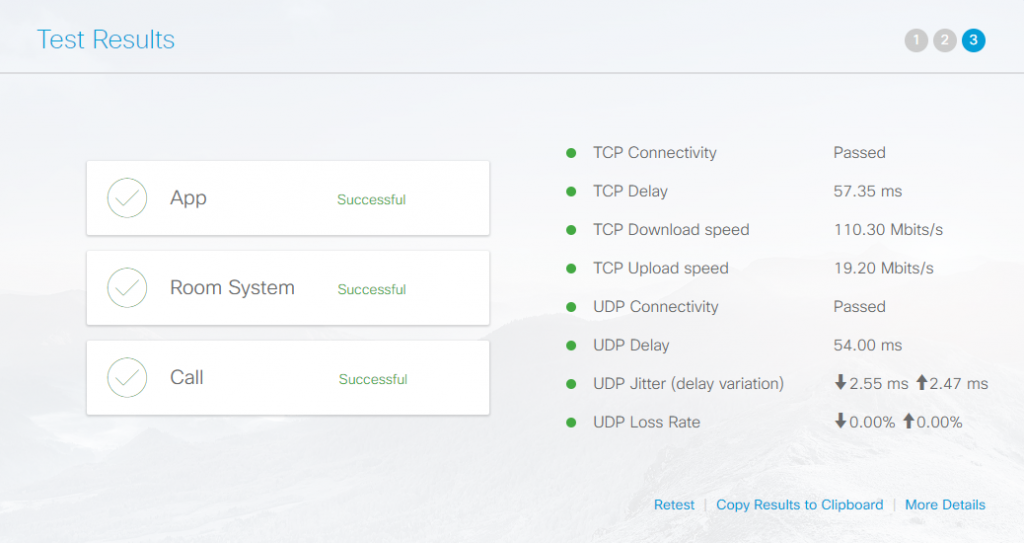 Signing in
At the top right of the mun.webex.com landing page you will see a Sign In button.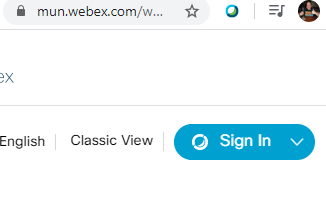 Sign In! You will be asked to enter your email address. This will be your @mun address. Please use your MUN Login ID version, not your alias or nice name.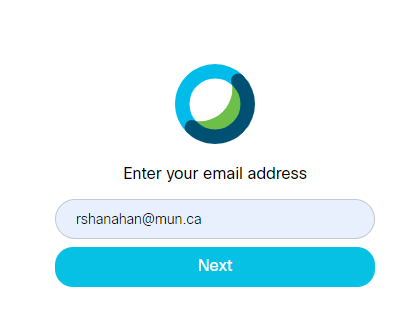 Once you enter your email address, you will be directed to the MUN Login page to enter your username and password to complete the authentication process.
Your Dashboard
This is where you are going to create and host Webex meetings. Here are some of the major functions of the dashboard.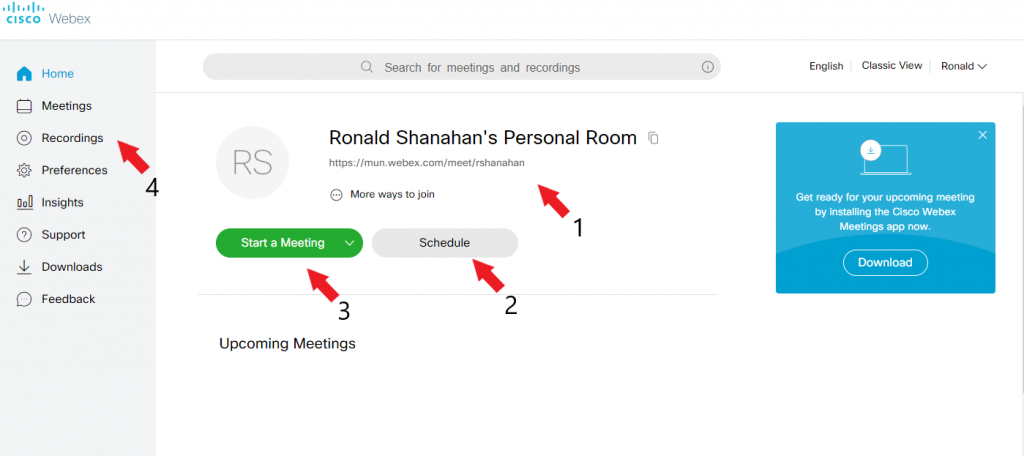 This is the url to your Personal Room. You can share this with people for ad-hoc (unscheduled) meetings. Once the user clicks on this link, they will be directed to enter their name and email address, test their connection, and then will be directed to your room.
Schedule is used to create meetings that will occur in the future. You can optionally enable repeating meeting schedule. You will be asked for some information about the room: date/time, name, password, upload agendas, invitations, send email reminders as well as other things.
Start a meeting will take you into your personal room. This is useful for ad-hoc meetings. There are no passwords or schedules to manage – you only need to share your room url with the person you want to meet with.
Recordings is where you will find your recorded sessions.