Setting Up Your Assignment
After you have decided on which type of Video Assignment you will use, you will need to create the assignment in your course. To begin, go to the module in your course content where the assignment will be placed. Click on the Existing Activities button as seen below, and choose Video Assignment from the drop-down list. Note that, in some courses, Video Assignment will be located under the Assessment tab in the main Brightspace navigation bar.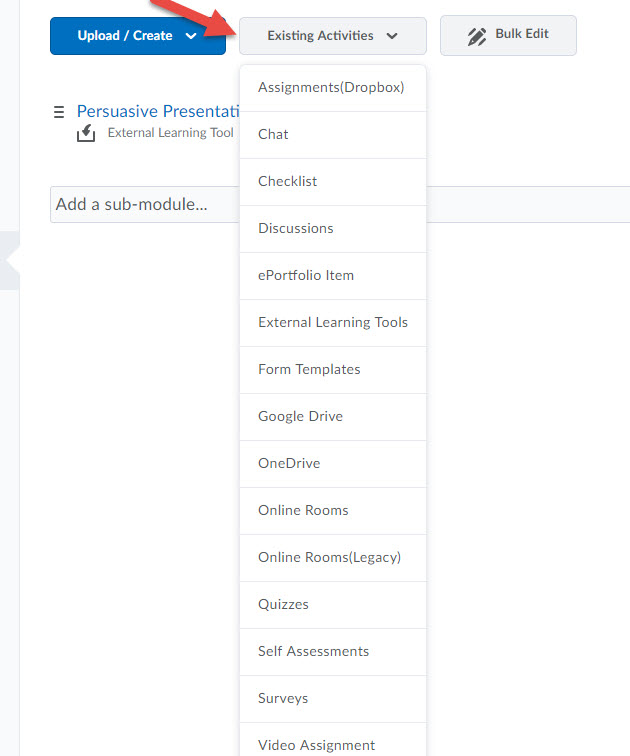 Next Steps
Click on the icon that corresponds to the one of the types of assignments you can create (Individual Project, Group Project, Question & Answer, or Interactive Video).
Fill in the Assignment Name field as well as the Due Date and Due Time fields.
Choose the Grade Type

you will use from the drop-down list.

Add Instructions

. You can either type in your instructions, or you may choose to create a short instructional video.

If you choose to do peer review, select Peer Review

options.

Note that if you click on the Show Advanced

link at the bottom of the setup window, you get to choose more options for the assignment setup.

Select Save

and continue.

To add your newly created assignment, just click on its title in the Add Activity window to add your video assignment as a topic page in your course content,
NOTE: For more detailed help, please visit the Knowledge Base