Conducting a Practice Run
Before running your newly created intelligent agent and sending automated emails to students, you can conduct a practice run. A practice run allows you to check if your agent settings are correct without sending emails to students.
Log in to your course in Brightspace.
In the navbar, click Course Admin.

Select Intelligent Agents from the list of available tools.

On the Agent List page, locate the agent you want to practice-run and click the downward arrow next to it.

Select Practice Run from the menu.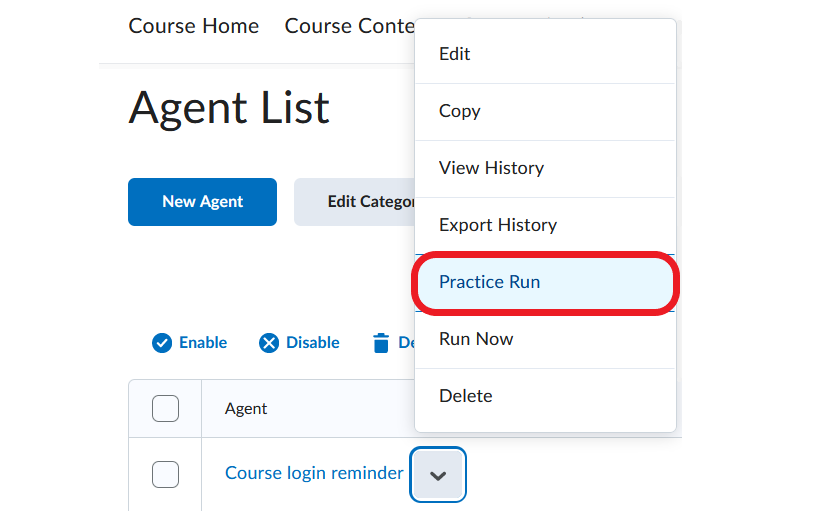 A window will pop up asking you to confirm that you want to conduct a practice run. Click Run.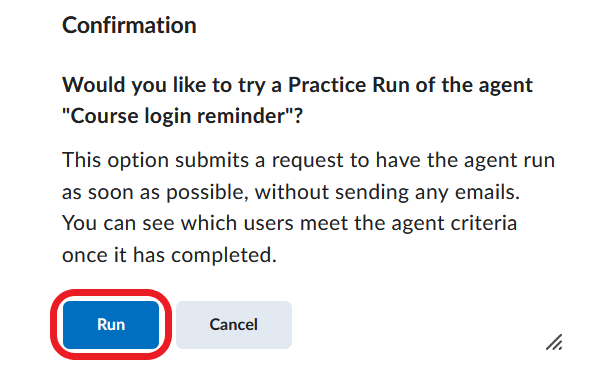 You will see a page with a confirmation that your request has been submitted.
When the practice run is complete, after a minute or two, you will receive an email (in Brightspace mail or another email if you have changed email settings for the agent).
Go back to the Agent List page and locate the agent you have just run on the list.
In the 'Results of Last Run' box, click on the users identified by the agent to see the complete list.

You can now conduct a proper run of the intelligent agent.
Video Instructions