Taking a Brightspace Quiz
Brightspace Quiz Tool
Some instructors choose to use Quizzes as an assessment tool for a number of purposes, which could include a self-test, a pop quiz, weekly quiz or even midterm and final exams. Quizzes can include a wide variety of types of questions, such as multiple-choice, short answer, matching or even long answer essay questions. Your instructor may choose to make your results available to you right away, or at a later date.
NOTE: We recommend that you use a desktop or laptop computer when writing an online quiz or test.
Start a Quiz
To start a quiz,
Select Quizzes from the Assessments drop-down menu on your course homepage:

2. From the Quiz List, select the quiz you wish to take by clicking on the title of the quiz. Quizzes are group into Current, Future and Past quizzes. You can only start a quiz within the availability date listed below the title, if your quiz is within that date it will appear in the Current Quizzes section.
3. Read the quiz instructions carefully, and when you're ready to begin, select Start Quiz! Your quiz will display in full screen, with no navbar.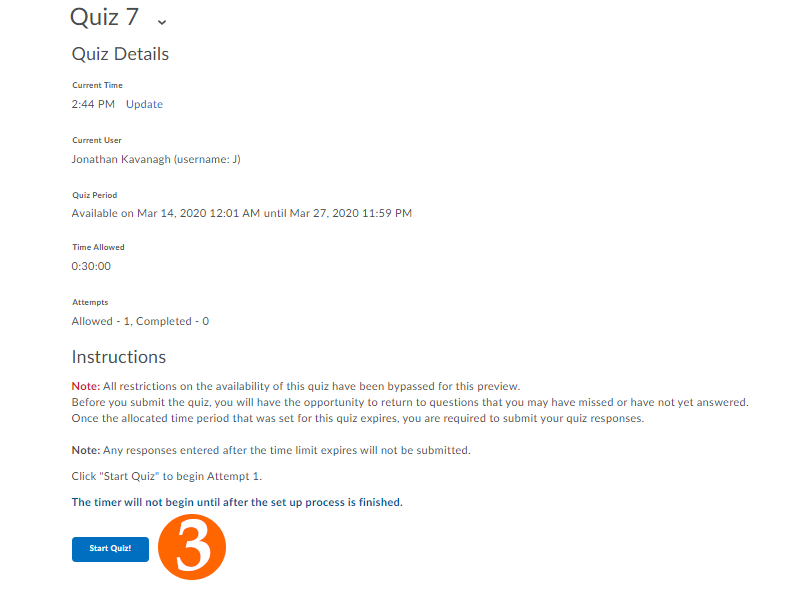 4. On the quiz page you can view the time limit for this quiz as well as the time you have remaining. Use the summary on the left to see which questions you have answered (saved), a check mark shows the question is saved. Note: Brightspace automatically saves your question responses when you move to the next question, and HTML-enabled questions save when the mouse cursor is clicked outside the answer input area. Use the summary on the left to follow which questions you have saved and which are unanswered.
5. When you're done answering all questions, click Go to Submit Quiz, submit, and look for confirmation that your quiz was successfully submitted. If you encounter a major problem while taking your quiz, you can't re-enter the quiz, but your progress will be saved, which will indicate to your instructor that you attempted the quiz. It is up to your instructor to decide how to proceed.