Brightspace (D2L) will allow you to customize your personal profile as well as the ways you will receive notifications regarding your course activity.
Customizing Notifications
Notifications are a great way to keep up with course activity, as well as receive any university alerts that may be posted in the Brightspace News widget. It is recommended that you turn on these notifications in Brightspace and customize the settings to meet your preferences. You can customize when and how often you get notices, along with the how to receive them. These alerts can be sent to your email or directly to your mobile device.
How to customize your notifications
Login to Brightspace (www.online.mun.ca)
Click on your name in the top right of the page and select Notifications from the menu.

3. Under Contact Methods, you will see your system email presented ( @mun.ca) . It is recommended that you use this address to receive notifications; however, if you wish to provide a custom email address, choose the "Change your email settings" to add the email details.
4. In this same section, you can also provide a mobile number to receive notices via text message. Please note: Depending on your phone/data plan, receiving these notices may result in charges.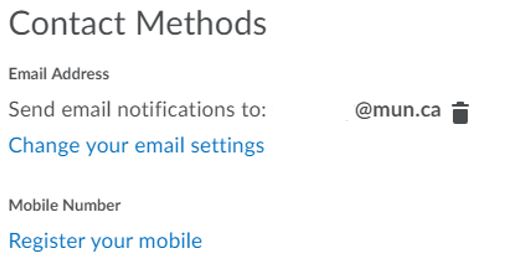 5. You can also choose to receive a Summary of Activity. The options for this setting are daily, weekly or never.
6. There is also an opportunity to receive Instant Notifications. These are directly linked to course activity (for example, when discussion posts are made, when a quiz is available, when a news items is available, etc..) You simply select the activity for which you want to get notices, and the method of delivery for each.
7. The final two settings allow you to Manage the sites you want to receive notifications from. You can choose to receive notices from future courses (this option may be useful if you are working with a colleague and want to know when new content is added to the site) or you can review a complete list and choose the specific courses for which to receive notices.
Creating your Personal Profile (About Me)
Brightspace (D2L) provides users the opportunity to share information about themselves through the About Me page. You can upload a picture and share personal information (e.g., social networking sites, affiliations, favourite books, etc.). You are not required to add information to the page, but doing can help students learn a little more about your interests and work. These are system profiles, meaning they linked to your account, not a particular course site.
If you choose to upload a picture, please know that it will be visible in the Classlist and in ePortfolio tool.
How to customize your profile
Login to Brightspace (www.online.mun.ca)
Click on your name in the top right of the page and select About Me from the menu.
Fill in the relevant/appropriate text fields.
If you want to upload a picture, click Change Picture and browse for the image you want to include, then click done.
Click Save and Close to update the profile.
Brightspace Video Help