Discussion Statistics
Viewing and Exporting Discussion Statistics
The Discussion Statistics feature allows instructors to see an overview of students' activity within the discussion topics and determine if students need support.
The Statistics link is available at the top of the Discussions page. You can view statistics by user and forums and topics, instructions are listed below.
1. View Statistics by Student (User)
A listing of students along with posts broken down by the number of threads, replies, read, unapproved and scored display below Class statistics. Click student name to see related forum and topic statistics.
To search for a specific student, type the student's first and/or last name in the Search For field, then click the magnifying glass icon.
If you have previously created Groups in your course, click the drop-down arrow to the right of the View By: field to display Groups.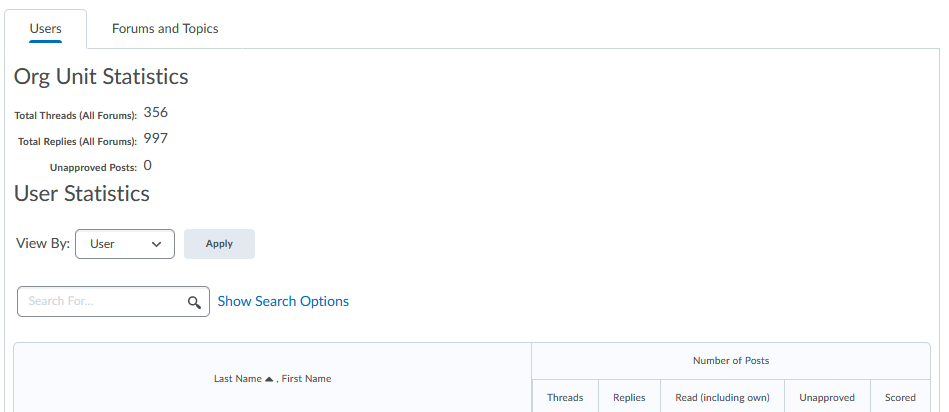 2. View Statistics by Forums and Topics

Click the Forums and Topics tab to the right of the Users tab.
The Forum/Topic Title column lists all Discussion Forums with associated Topics indented underneath. Click on any Forum or Topic title to see the related User Statistics in a pop-up window.

Note:
Only users who appear in the classlist appear when viewing statistics by user; however, totals include posts by all users, including instructors.
You can sort statistics by clicking on any column heading.
3. Export Statistics to a Spreadsheet
You can save statistics to a spreadsheet by either User or Forums and Topics by selecting the corresponding tab on the Discussions Statistics page.
Select the desired tab and click on the Export to CSV File button near the top left of the page.

A pop-up window will appear with a link to your file. Click on the file link to open or save the file.
Click Close to return to the Discussion Statistics page.