End-of-Course Assessment Options
This resource provides various options for summative assessment at the end of a course. While in some cases, a final exam is the best approach to assessment, there may also be other possibilities that could be considered. The range of approaches are presented in this resource.
Types of Assessment
Assessment in a course is typically an ongoing aspect of teaching. The visual below illustrates the various types of assessment that may occur in a course:
Preassessment (at beginning of course),
Formative Assessment (during course to test progress and mastery of concepts), and
Summative Assessment (to confirm whether or the degree to which students have learned the material covered in the course, as outlined in the learning outcomes).
They are shown as part of an assessment continuum. In this resource, we will focus on summative assessment (at the end of the course).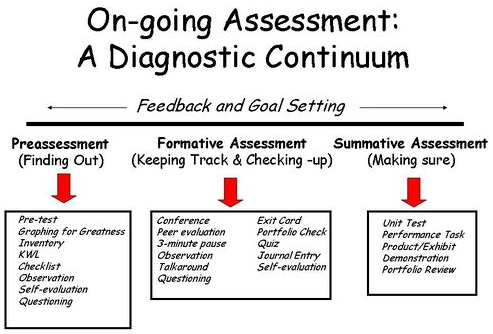 Use of Pedagogical Wheels to Help Determine Type of Assessment
Choosing the appropriate summative assessment at the end of the semester requires looking back at the course learning outcomes. The domain, knowledge, skill or attitude being learned, and level of the outcome determines the range of assessment options that would be suitable to check student learning.
Pedagogical wheels illustrate the verbs and assessment approaches suitable for each of the levels of learning in a domain (cognitive, psychomotor, affective). The wheels list verbs that could be used to write learning outcomes, identify activities and approaches to assessment applicable to each level of the domain. Atkinson (2013) discusses each of the domains and the usefulness of visualization circles in designing assessments that are suitable for each domain's level of learning.
How to Choose an Alternate Assessment to Final Exams
This flowchart walks you through a process for determining if final exams are needed. If a final exam is needed, information on how to digitize it is presented; if a final exam is not needed, re-designs are recommended.
Digitize Your Exams
When you have determined that an exam is the optional way to assess student learning, there are a few things to keep in mind. First of all, consider constructing an exam that can be administered online using Brightspace's Quizzes tool. For closed-type questions (MC, matching, T/F), you can introduce question libraries, sections, randomization and control duration and availability windows of the exams. If using essay exams, use the timed release of instructions and timed closure of exam. Take-home and open book exams can be administered through the Assignments tool in Brightspace.
Re-design Your Exams
There are many ways to assess student learning in a course, including:
Papers
research
reflection
culminating written
position
proposal
literary response
compare/contrast
Visual Presentation
drawing
illustration
photo of model or piece of art
Presentations
audio
video
demonstration
narrated slide show
interview, conference session
Assignments
case study
problem
dilemma
equations
Reflective
journals
logs
1-minute writings
question of the day
future learning plan
question-response from lecture
Others
ePortfolio
peer-review
self- and peer- assessment
capstone project
Details are provided for video presentations, reflection papers, and culminating written papers.
Student Video Presentations
Video Presentations are great for oral assignments or exams that include assessing soft skills, demonstration of skills and knowledge as well as for interviewing experts in the field. The video can be created in an instructor provided online room or using the Video Assignment tool which allows students to record a video or upload a prerecorded video.
Reflection Paper
A Reflection Paper is a useful way of getting students to reflect on their learning and related to their life and experiences. It is more effective if students work on their paper throughout the semester rather than wait until the end of the semester. Students can use a text based document (MS Word, PFD file, blog, ePortfolio, etc.) with images and diagrams interspersed.
Culminating Written Paper
A Culminating Written Paper is one that encompasses the full course and builds on the theories, topics, readings, discussions, that were explored throughout the semester. It is best if students are given a choice of topics to choose from.
Resources
Below is a list of resources that cover various summative assessment options in more detail.