If you are an on-campus or online student, you may have required or optional Online Room sessions as part of your course requirements. Instructors may choose to offer additional instruction, class presentations, office hours, meetings, webinars, language labs, or tutorials using Online Rooms. If you are unsure if your course has an Online Room component, refer to your course outline or contact your instructor.
Please note: Firefox and Chrome are the recommended browsers for online room sessions.
Where do I access Online Rooms?
If an Online Room is part of your course requirements, you can access it by clicking Communication on your course homepage, and then selecting Online Rooms. Here you will find a list of all scheduled sessions for your course These sessions are listed in date order with the most current at the top of the list. (Note: Your course may have planned sessions not yet scheduled)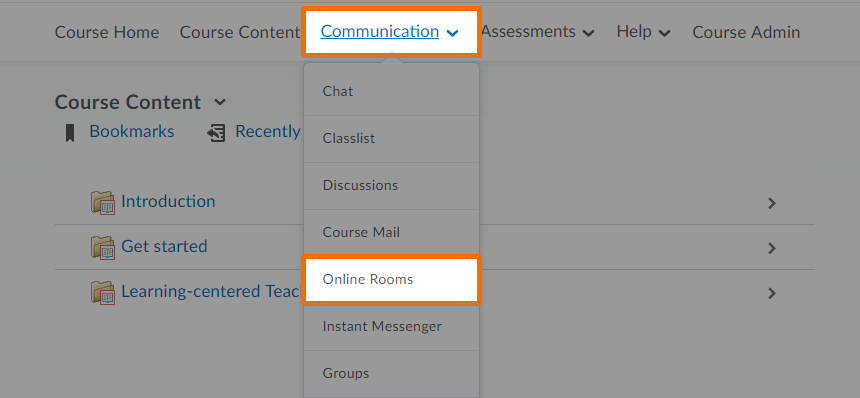 How do I enter the session?
After navigating to the Online Rooms page, you will find a list of scheduled sessions, find the session you are trying to connect to and select the enter icon under actions.


After you select the room, you will be taken to the session lobby page. Here all the details of your session are listed towards the top of the page; presenter, start time, and duration.
If your room is not yet available, the "Enter Meeting Room" button will be Blue and not clickable as well the time remaining before the room will be available is listed above. When your room is available the "Enter Meeting Room" button will be orange and clickable.
Select the orange Enter Meeting Room button and your session should launch, if you have any issues opening your session, please do not hesitate to contact our Support Centre. View our other resources for help Navigating your online room session.