Transferring Grades to Banner
Once you have entered the final course grades (and special codes, as needed) into the Final Adjusted Grade column in your grade book, you are ready to transfer them from Brightspace to Banner.
Grades2Banner Tool (G2B)
Grades2Banner is a tool used to transfer grades directly from the Brightspace grade book into Banner. You can access the Grades2Banner tool from My dashboard widget on their Brightspace home page by clicking on Instructors. It is also accessible from each course' home page (bottom of the menu on the right).
Transfer Grades with G2B
Once you have entered your grades in the Final Adjusted Grade column, you are ready to transfer them to Banner using the Grades2Banner tool. This process is illustrated below with a course ENGL 7601 used as an example.
Note: Some of this information may vary depending on how your course is set-up.

1. Select the course for which you are ready to transfer final grades.
2. Click on the Transfer button. This will open a confirmation window.
3. Confirm the transfer of grades by following instructions on the screen. The course will then be added to a queue for the grades to be transferred to Banner.
Note: Depending on class size, it may take a couple minutes to compile the grade information for transfer. Please be patient.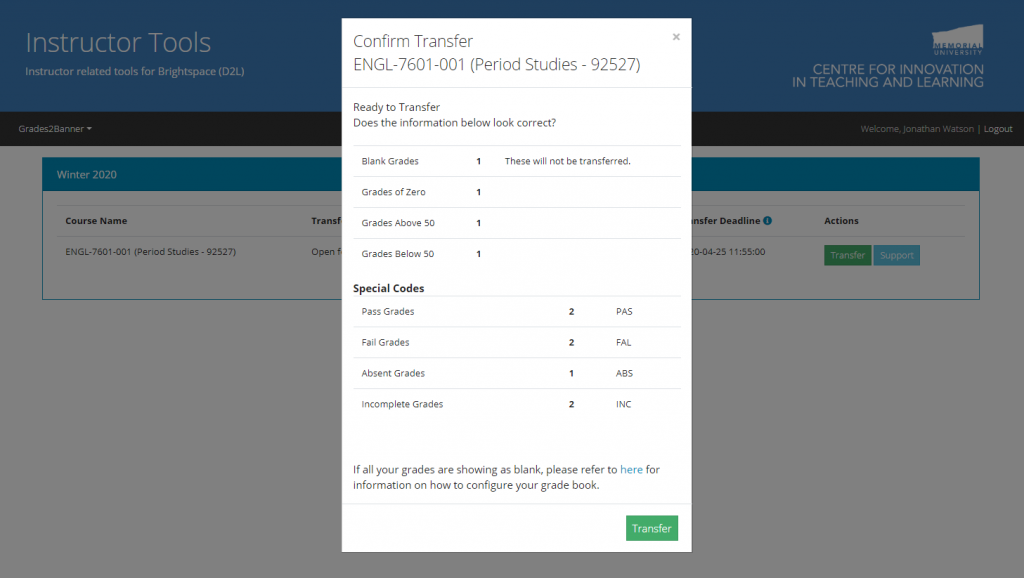 4. After a few minutes, refresh the browser window and review the Transfer Status information.
Note: If there are errors in the transfer, a Transfer Response Message will appear on your screen with the error identified. Review the message. In the example below, the majority of grades were transferred but some failed to transfer. When this happens, a list of student numbers will appear in the message (they were purposely deleted from the sample below). This could mean these students are not listed in the course in Banner or something is wrong with the grade book in Brightspace. Please reach out to the Support Centre if you have any issues resolving the errors.

5. Please confirm that Transfer Successful appears next to the course. If the process was not successful and you are unable to identify the problem, please contact the Support Centre.
6. Repeat steps 1 to 5 for all additional courses.