What's New in Brightspace?
Each month, the Brightspace learning management system at Memorial is automatically updated by D2L (its parent company). New features and configurations are regularly added to Brightspace in order to improve its functionality and security. The updates occur around the third week of each month with no disruption to the system. This page provides a summary of the most recent Brightspace updates that impact instructor and student experience.
2022 Updates
> May 2022 Updates
This month's updates are mostly esthetic and do not affect functionality of the Brightspace system for instructors or users.
> April 2022 Updates
1. Groups Tool
Group Creation Now a Background Process
Creating groups using the Groups tool in Brightspace may take several minutes, especially if numerous groups are being created. With this update, group creation will run 'in the background', so instructors can navigate to other areas of the course while the process is taking place. The instructor will receive a notification once the groups have been created.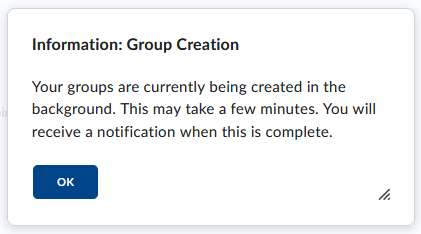 Pagination has been introduced to the Groups tool, and the maximum number of groups that can be displayed on a page has been limited to 200.
2. Intelligent Agents – New Features Added
The following features have been added to the 'Create Agent' page:
The page now contains collapsible sections for Scheduling, Criteria, and Actions.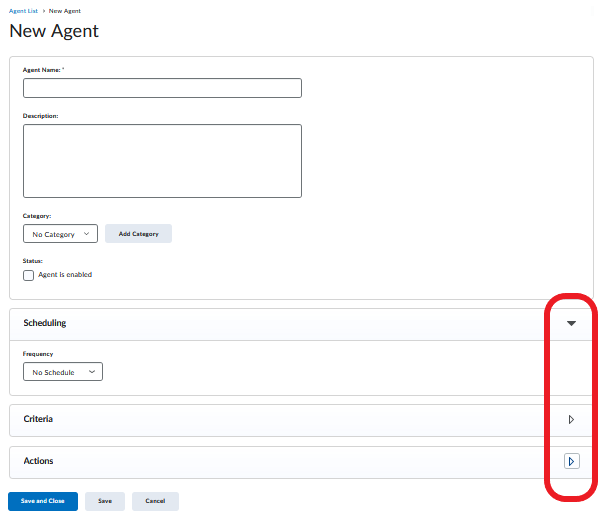 More options for delivering agents have been added – in addition to options to run an agent Daily, Monthly, or Annually, agents can now be scheduled to run Hourly, or One-Time Run.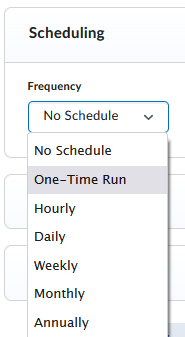 Instructors can now set the specific time of day when a scheduled agent should run.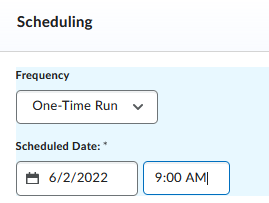 > March 2022 Updates
1. Announcements – 'Copy' Function Now Available
Instructors can now quickly duplicate an existing announcement in a course, edit it, and publish it as a new announcement. A copy can be made by clicking the down arrow next to the announcement title and selecting Copy. The copy will include the content of the original announcement, as well as attached files and release conditions (if any).
NOTE: This function only works within a single course; it does not allow to copy announcements between courses.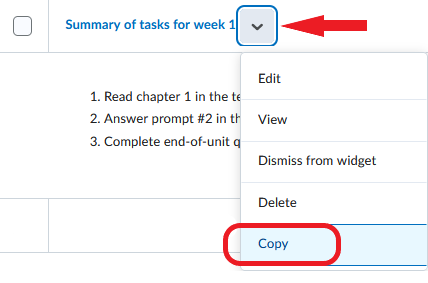 > February 2022 Updates
1. Content – Print and Download Buttons Available in Fullscreen Mode
When viewing a content topic in a fullscreen mode, users now have access to the Print and Download buttons located in the top right of the page. Previously, the options to print and download were only available in the main content view, but not in fullscreen mode.

2. Intelligent Agents – New Functions Added
Improvements have been made to the Intelligent Agents tool:
The option to create Categories has been introduced, which allows for better organization of intelligent agents.

The Bulk Edit function to edit agent details (name, category, and active/inactive status) is now available.

> January 2022 Updates
1. Brightspace Learning Environment – Older Browser Versions Not Supported
It is strongly recommended that users access Brightspace using the latest version of the following supported browsers:
Chrome 93 (released in August 2021)
Safari 13 (released in September 2019)
Firefox 91 (released in August 2021)
Edge 93 (released in August 2021)
D2L will no longer support older versions of these browsers or test the Brightspace Learning Environment against them. While users can continue to access Brightspace using older browser versions, doing so will generate a warning message, and users may experience potential issues with the appearance, functionality, or security of the system.
2. Discussions – New Evaluation Experience Universally Enabled
The new discussion evaluation experience is ON by default. Instructors no longer have the option to switch to the classic discussion evaluation interface.
3. Discussions – Rubric Selection Dropdown When Using Multiple Rubrics
To make the discussion evaluation interface consistent with the assignment evaluation interface, a rubric dropdown menu has been added to the evaluation menu. When instructors use more than one rubric to evaluate a discussion topic, they can now select which rubric will be used to calculate the Overall Grade.
NOTE: The score transfer from the rubric to Overall Grade does not occur if the option to Allow assessment of individual posts is selected.
4. Brightspace Pulse – Updated Subscription Notifications for Discussions
Subscription notifications in Brightspace Pulse are now consistent with subscription notifications in Brightspace Learning Environment. Students now receive all replies to discussions they are subscribed to as well as @-mentions in discussion threads from the Notifications > Subscriptions tab in Brightspace Pulse.
5. Date and Time Picker – Improved Date and Time Selection
There has been an update to the calendar that opens when instructors select Start, Due, and End Dates for assignments, quizzes, grade release etc. The changes include:
The Set to Today button has been renamed Today. The function of this button has not changed – selecting it sets 1) the current date and 2) either 12:01 AM or 11:59 PM, depending on the context.
A new Now button has been added. Selecting this button sets the current date and time.
The Today and Now buttons only appear when a date and time are required. When only a date is required, only the Today button appears and functions the same as the Now button.
The Clear button remains unchanged.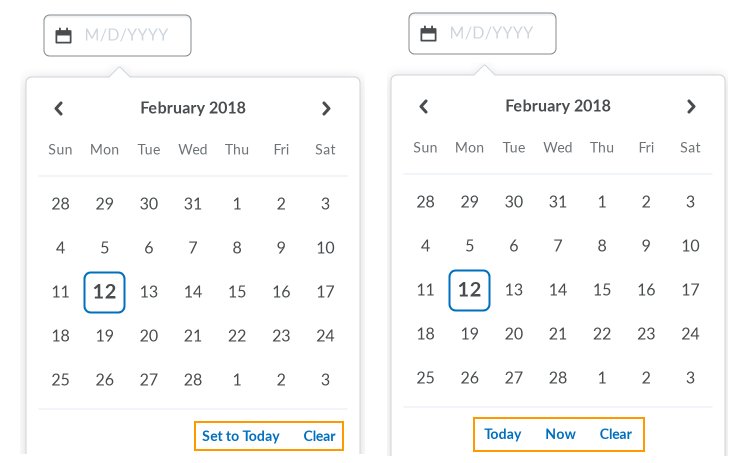 2021 Updates
> December 2021 Updates
1. Assignments – New Assignment Creation Experience universally enabled
The new assignment creation experience is ON by default. Instructors no longer have the option to switch to the classic assignment creation interface.
2. Brightspace Notification Alerts – Alerts in the minibar persist for 90 days
Message, Subscription, and Update icons, located in the minibar at the top of Brightspace pages, provide information about new activity in the course: Brightspace email, discussion posts, content or grades etc. By clicking the icons, users can now view alerts from the last 90 days, while previously all alerts disappeared after 7 days. As before, clicking the icons opens a dropdown menu with five most recent alerts in the selected category, with the option to load more.

3. Intelligent Agents – Ability to copy intelligent agents between courses
The number of email addresses that can be added to the 'To' and 'CC' fields in a single Brightspace email has been increased from 50
Intelligent Agents can now be included when importing, exporting, or copying courses/course components. Previously, copying intelligent agents between courses was not possible, and agents had to be recreated in every new course.
When Intelligent Agents are copied from one course to another, all settings and restriction associated with them are also copied except for release conditions. If instructors want to keep release conditions they have attached to intelligent agents in one course, they must select "Release Conditions" when copying/importing from that course. The only release conditions that will not copy between courses are ones associated with the Classlist (e.g., group enrollment).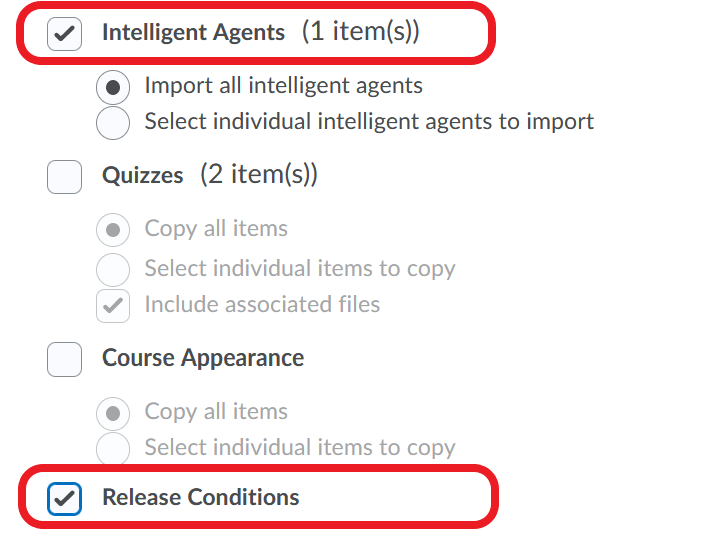 Intelligent agents copied from one course to another are disabled by default, and instructors must manually enable them in the new course. It is recommended that instructors review release conditions and other associated settings before enabling intelligent agents.
4. Brightspace Email – Clicking 'To/Cc/Bcc' launches address book
In the 'Compose' window of the Brightspace email, the three recipient options (To, CC, and Bcc) are now links. Clicking 'To', 'CC', and/or 'Bcc' when composing an email launches the user's address book in a new window. Once the email recipient(s) is/are selected, they are added to the respective fields.
Users can continue to compose messages by going to the Address Book first and selecting the recipients from the list.

5. Quizzes – Revised language terms and descriptions
Some of the terminology and descriptions in the Quizzes tool have been revised in order to improve clarity and to make them more intuitive to both instructors and students. Some examples include:
In the Create/Edit Quiz area > Assessment tab:

'Automatic Grade' has been changed to 'Automatically Publish Evaluation', and

'Auto Export to Gradebook' has been changed to 'Synchronize to Gradebook'

In the Grade Quiz area > Questions tab, 'Blind Marking' has been changed to 'Hide Learners' Names'
A detailed list of language term updates in quizzes can be found here.
Note: There has been no change to the functionality of or the settings within the Quizzes tool.
> November 2021 Updates
1. Assignments & Manage Files – Warning when uploading restricted files
If instructors or students attempt to upload security-restricted file types in the Assignments tool or in the Manage Files area, they will receive a warning message saying "This file extension is not allowed" (Assignments) or "This file extension is not allowed for security reasons" (Manage Files). See the chart below for a list of security-restricted file extensions.
ASA
ASAX
ASCX
ASHX
ASMX
ASP
ASPX
AXD
BAT
CDX
CER
COM
CONFIG
CS
CSPROJ
DLL
EXE
IDC

INI
JSL
LICX
REM
RESOURCES
RESX
SHTM
SHTML
SOAP
STM
VB
VBPROJ
VJSPROJ
VSDISCO
WEBINFO
2. Content – Changes to the PDF inline viewer
The PDF inline viewer is a tool used in the Content area of Brightspace to view all converted documents in a .pfd format. As a part of the current update, some features of the PDF inline viewer have been moved from the bottom to the top of the document being viewed, which reduces the need for scrolling.


3. Brightspace Email – Increased limits for 'To' and 'CC' fields
The number of email addresses that can be added to the 'To' and 'CC' fields in a single Brightspace email has been increased from 50 to 200.
> October 2021 Updates
1. Assignments – Preview available
If instructors or students attempt to upload security-restricted file types in the Assignments tool or in the Manage Files area, they When grading assignments in the Assignment Evaluation mode, instructors have access to a preview that displays the assignment from the perspective of a student. The preview is available by clicking the More Options menu ('…') in the top right corner of the evaluation screen and selecting Preview Activity from the dropdown menu. The preview opens in a new browser tab and includes instructions, dates, restrictions, and options for submission. Note: Instructors cannot edit the assignment from within the preview window.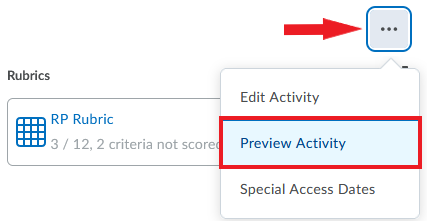 Instructors can also access the assignment preview feature from the Assignments Folders page by:
going to More Actions
selecting Preview from the dropdown menu, and
clicking on the assignment they wish to preview.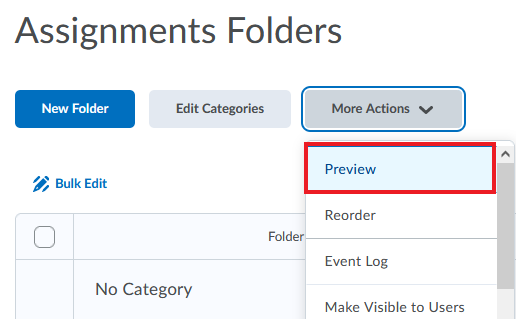 2. Course Import – Course import history available
Instructors can now view the history of course import attempts for courses by going to:
Course Admin
Import/Export/Copy Components
View Import History
Available information includes original package names & names of the original creator as well as the status and time of the import attempt.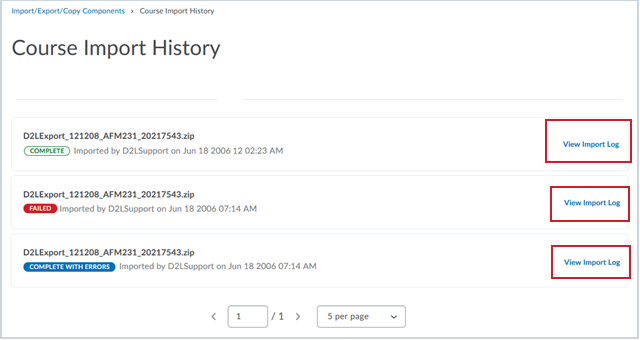 > September 2021 Updates
1. Rubrics – Completion status indicated in a collapsed tile
When grading assignments, discussions etc. that have an associated rubric, instructors can now see if the rubric is complete even when the Rubrics tile is collapsed in the evaluation mode. Previously, the rubric's completion status was only visible if the Rubrics tile was expanded. The collapsed tile now displays the score and indicates if any criteria have been left ungraded.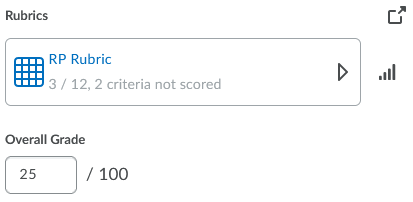 2. Assignments – Restricting file types acceptable for submission
Instructors can now specify what file types students can upload through the Assignments tool. A restriction can be set when creating or editing an assignment. The setting is available in the Submission & Completion section of the Assignment creation window under Allowable File Extensions. Instructors can choose one of the options provided in the menu, or select Custom File Types to create their own list of acceptable file extensions.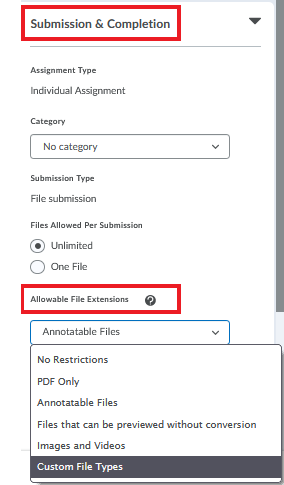 Options available in the menu include:
No Restrictions
PDF only
Annotatable files (any file type that can be viewed and annotated using the Annotation tool in Assignments)
Files that can be previewed without any conversion (e. g., .HTML, .MHT, or .BMP)
Images and videos
Custom file types (instructors manually enter file extensions allowable for submission)
If a restriction is set, students will be able to see what file types they are allowed to submit for their assignment. If they attempt to upload a file from outside the list, they will receive an error message indicating that the file type they are trying to submit is invalid.
3. Discussions: New Discussion Evaluation Experience
Evaluation of discussion contributions now has a similar interface to the New Assignment Evaluation Experience. Then new interface is currently optional and can be turned off/on by clicking the down arrow in the top right corner of the screen. The old interface will become unavailable at the end of 2021, therefore instructors are encouraged to leave the new interface on in order to become familiar and comfortable with its layout.