You can now enter special grading codes in Brightspace and have them transferred to Banner when you use the Grades2Banner application.
In order to use this feature, you must enter negative grades in the final adjusted grade column for any student that needs to receive a special code.
Note: If you do not wish to do this within Brightspace, and would prefer to do this in Banner directly, you must blank any students partial grade in the final adjusted column otherwise that partial grade will be transferred and must be overridden within Banner.
Step 1: Move all grades from Final Calculated to Final Adjusted
Note: If you are not using Brightspace's gradebook for storing grades throughout the semester, you can skip to step 2. You may first want to view our tutorial on manually adding grades to the Final Adjusted Column. Or if every student will be receiving a special code (Pass, Fail, Incomplete or Absent) you can skip to step 2.
To override an individual student's grade to the appropriate Banner grade code, you first need to transfer all numeric grades from the Final Calculated column to the Final Adjusted Column. You can do this one-by-one, or you can do this for all students at once.
Visit your Gradebook in your course by clicking Grades under the Assessment menu.
Click the arrow next to Final Adjusted Grade and click Enter Grades
To transfer grades one at a time:

Under the Final Adjusted Grade and Grade column on the screen, click the right arrow button in a row for a particular student.
The score will be taken from the Final Calculated Grade and put into the Final Adjusted Grade for that student only.

To transfer all grades at once:

Click the down arrow next to Final Grades at the top of the screen
Click Transfer All
Click Yes
Step 2: Entering Grade Codes (Negative Grades)
In order to add a negative grade for a student, you simple add a negative number to the grade numerator, and 100 as the grade denominator. Each negative integer you add corresponds with a Banner grading code. See the table below for details.
| | | |
| --- | --- | --- |
| Value To Enter | Grade Description | Grade Code In Banner |
| -1 | Fail | FAL |
| -2 | Pass | PAS |
| -3 | Absent | ABS |
| -4 | Incomplete | INC |
Watch the video below to see this in action.
Your final gradebook could look something like this: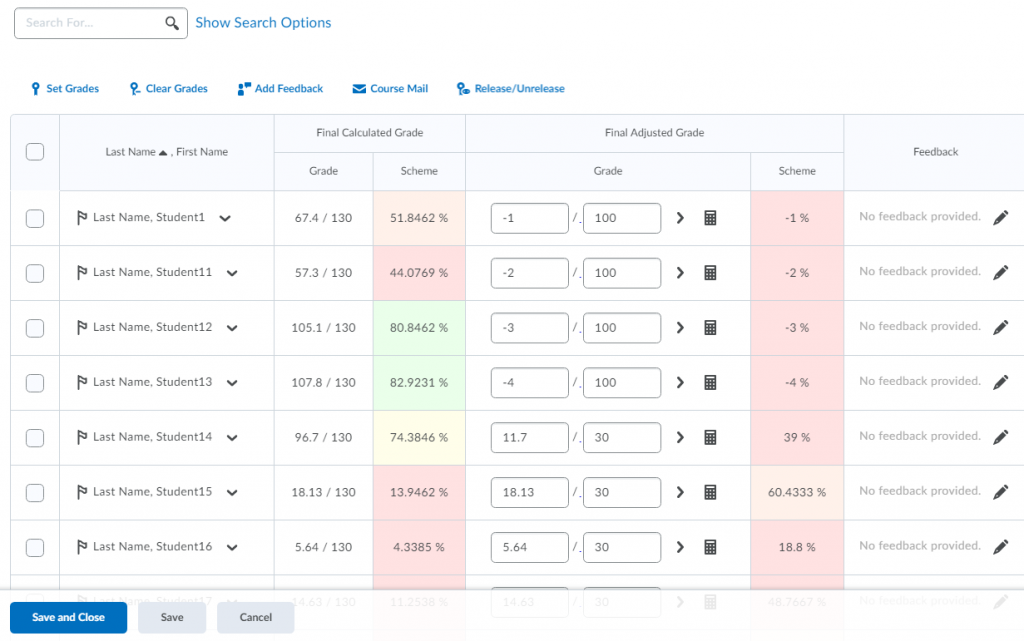 Step 3: Transfer Grades from Brightspace to Banner
View our detailed tutorials on transferring grades from Brightspace to Banner for more information: