Success for success
by: MUN
By: Janet Harron
Meagan MacKenzie, a PhD candidate in psychology and a tutor for Psychology 1000 and 1001 in the inaugural year of the First Year Success program, received the 2013 Graduate Student award for excellence in teaching recently.
Administered by the Graduate Students' Union, the award recognizes those who have demonstrated excellence in teaching-related activities, based on student comments, innovative teaching methods and evidence of exceeding normal teaching requirements.
As a graduate student, Ms. MacKenzie has been a teaching assistant for several years. While at Memorial, she has also been a course instructor for several sections of Psychology 1000, which has usual enrolment of more than 250 students.
However, when department head Dr. Ian Neath asked if she would be interested in tutoring as part of the  inaugural year of the First Year Success program, she didn't hesitate.
"It was a very different experience," she said, explaining that tutoring, as opposed to teaching, meant that she wasn't marking assignments and assigning grades but providing additional instruction after First Year Success students attended traditional Psychology 1000 and 1001 lectures.
"I was just there to help," said Ms. MacKenzie. "It was nice to get to know all the students' names – I ended up developing a strong social bond with several of them."
"I am delighted that this year the Graduate Student's Union recognized an individual who committed to an unknown, the university's innovative program for academically challenged students. First Year Success has been an educational adventure for all of us," said Dr. Valerie Burton, academic director of FYS.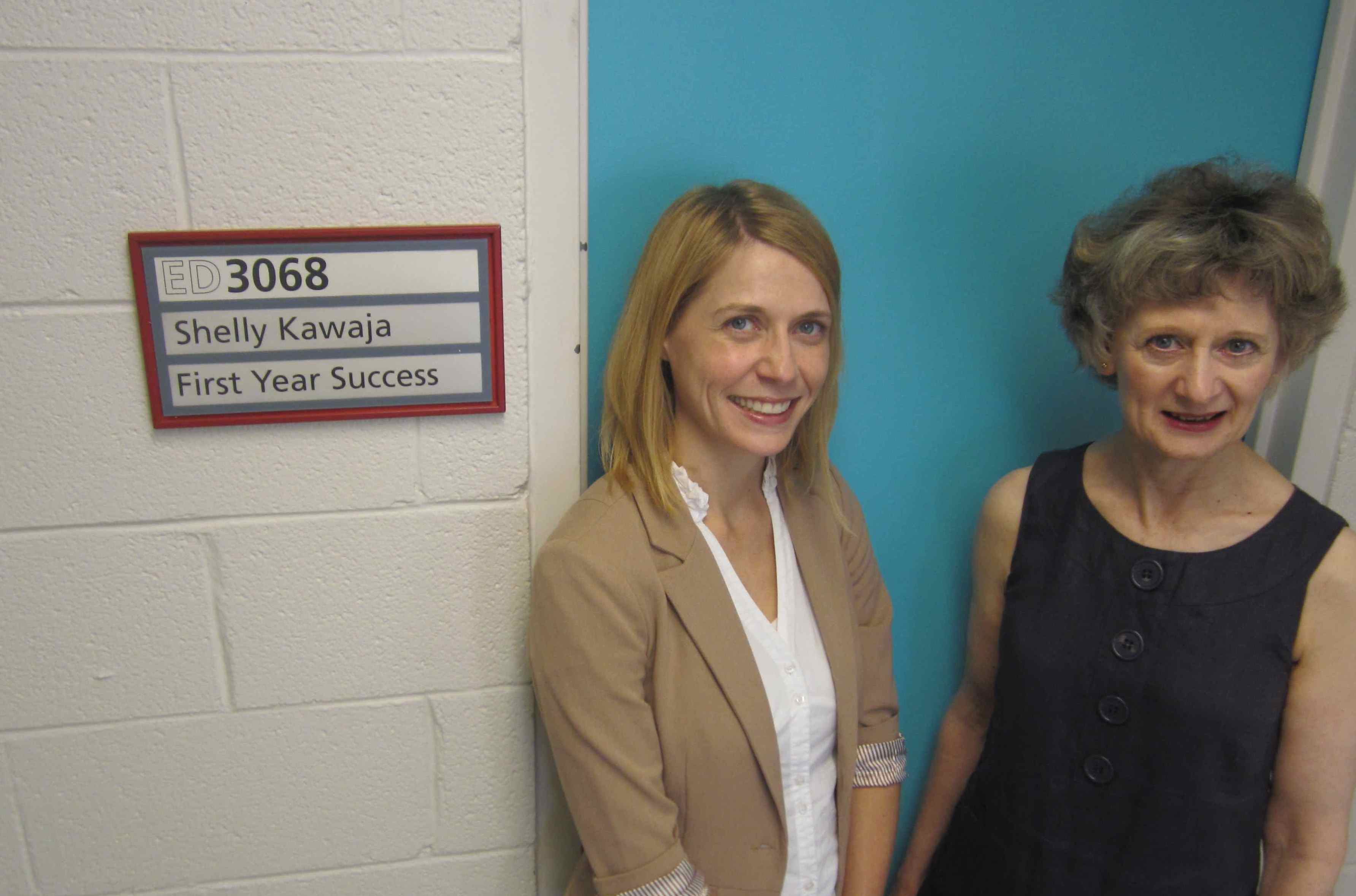 Dr. Valerie Burton, right, is pictured with Shelly Kawaja, FYS administrative director.
She explains that in the unique tutorial system used in the program, students had the unique opportunity to ask Ms. MacKenzie what they might have been reluctant to raise in the lecture room of 200 people.
"Meagan needed to have the regular instructional material well prepared, but more than that, she had to find answers on the fly, and often times anticipate when and where the students' questions would come. It speaks to both her deep knowledge of disciplinary material and her close observation of how students learn that she was able to do so effectively," explained Dr. Burton. "And if, on occasion, her "psychology" talks strayed outside their usual curricular boundaries, FYS students prospered enormously from their exchanges with her. Some may well be thanking her long into the future for sharing her insights into life and learning."
Incoming students for the second year of the First Year Success pilot program will sadly not be able to experience Ms. MacKenzie's stellar teaching skills for themselves as she has decided to focus on her dissertation in the upcoming academic year.
"I would totally recommend the First Year Success program to students entering MUN. New students don't know about the resources available to them, but FYS helps students figure out where to go for help," Ms. MacKenzie said. "After all, who wouldn't benefit from a little extra help in Psych 1000?"
First Year Success is an academic program designed for first-year students with final high school averages between 70 and 75 per cent who may be undecided about their academic program and who could benefit from help settling into university life.
More details can be  found at www.mun.ca/success.