You have successfully launched your online rooms session, the following are some tips on how to participate in an online room session. If you are required to present a session, you can find some instructions on presenting here.
Audio Setup
The first step to participating is to setup your audio based on your requirements for the session. You have two options: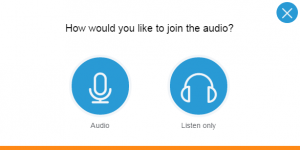 Audio This will allow you to manually configure a microphone and speakers so that you can interact with your session. You will be asked to select your devices from the drop down menu, play the test sound to ensure your speakers are working. If this is your first time using the tool, a dialog will appear in your browser, requiring you to accept sharing your microphone.
NOTE: If you have a microphone available, it is suggested you select this option.
Listen Only If you will be just listening, you can select and Online Rooms will use your computers default speakers to output the session sound.
The Interface
As a participant you will see the moderators presentation on the white space in the middle of your screen, they will control the navigation of slides.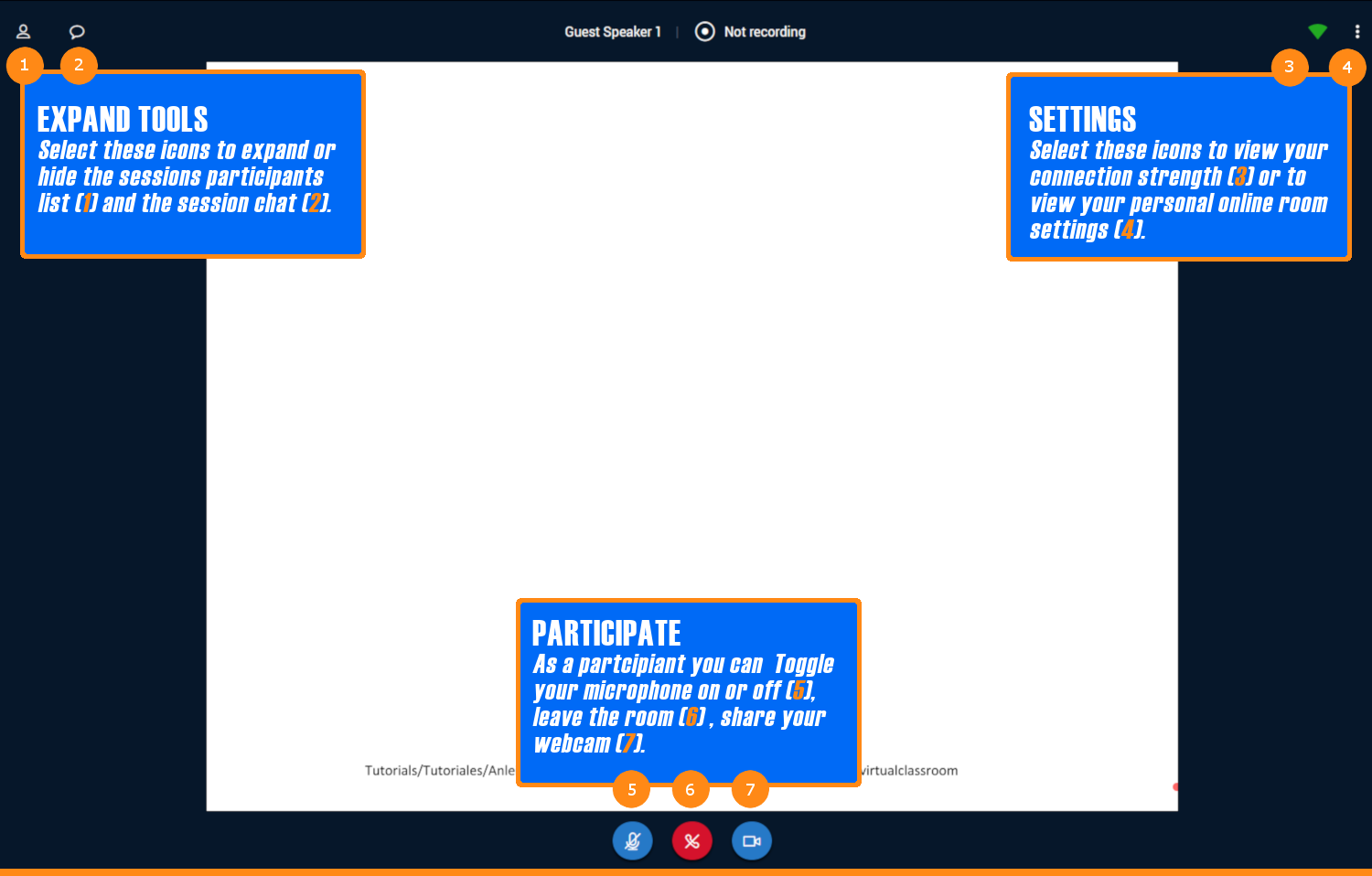 Select to expand or hide the session participants list. Selecting this icon will open the list of room participants, you can click on any participant to chat directly with them. You can click on your own name to set your chat status, this including raising your hand.
Hide or expand the sessions public chat, all messages sent in the public chat are visible to all participants in the session.
Select the connections button to view your connection speed, a green icon means your connection speed is strong.
Open settings: Toggle fullscreen, access audio settings and logout.
Here you are able to mute or unmute your microphone, It is recommended that you always mute your microphone unless you are called upon to speak.
Leave the session.
Share your webcam.
Joining a Breakout Room
When your instructor initiates Breakout Rooms, you will receive an invitation to join your assigned Breakout Room session. You will remain connected to the main session while in a Breakout Room, but your audio connection will disconnect from the main session. Click Join to enter the Breakout Room. Prior to entering the Breakout Room, you will be prompted to choose to join the meeting Audio or Listen only.
Upload Presentations
Should your instructor require you to give a presentation to the class you will be provided with "Presenter Status" by your instructor, this will allow you to have access to upload your own presentation to the Online Rooms whiteboard.
To add a file to use in the presentation space, click the Actions button (plus icon) found in the bottom left corner. Next, select Upload a presentation.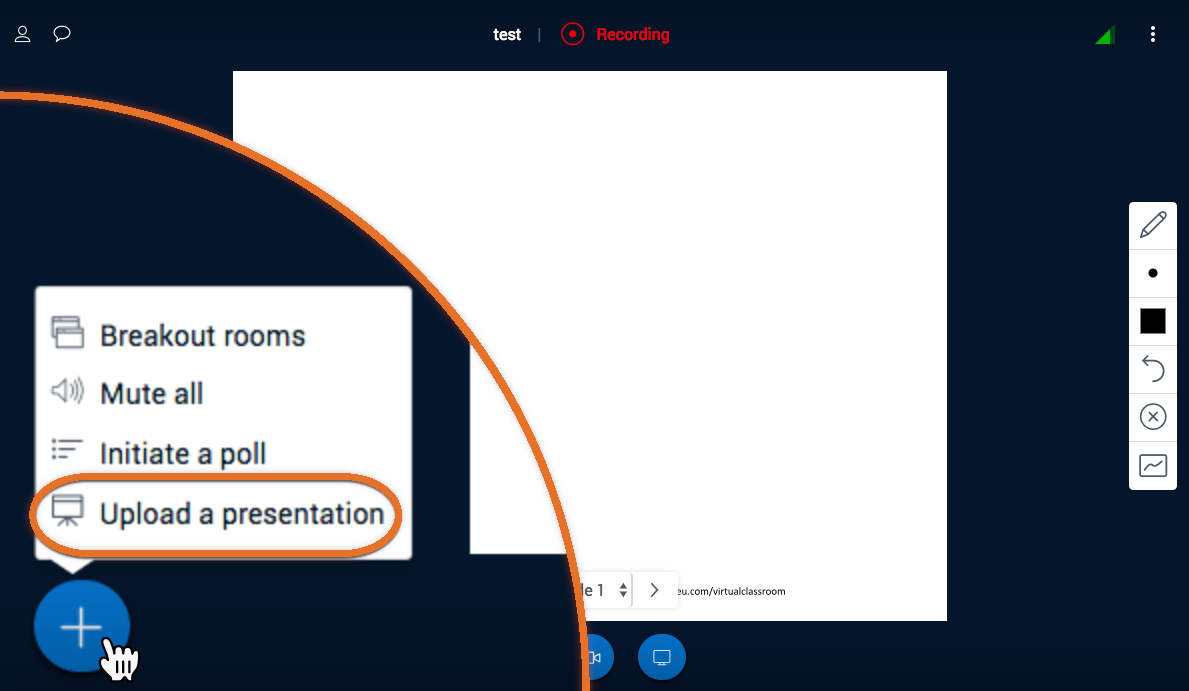 You can drag a file into the uploading window or browse for files. Allowed file types: doc, docx, xls, xlsx, pdf, txt, rtf, jpg, jpeg, png, bmp, html, htm, zip. Max file size: 100MB.
For best results, please save your file as a .pdf. Not only will a .pdf files upload quicker, but also they reduce the chance for error if the file size is large, or if you have inserted a number of media items like images into your presentation!
Uploaded files will appear together in a list. The last file uploaded will display in the presentation space automatically.