You have successfully launched your online rooms session, the following are some tips on how to participate in an online room session. If you are required to present a session, you can find some instructions on presenting here.
Audio Setup
The first step to participating is to setup your audio based on your requirements for the session. You have two options: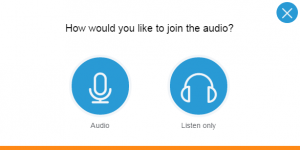 Audio This will allow you to manually configure a microphone and speakers so that you can interact with your session. You will be asked to select your devices from the drop down menu, play the test sound to ensure your speakers are working. If this is your first time using the tool, a dialog will appear in your browser, requiring you to accept sharing your microphone.
NOTE: If you have a microphone available, it is suggested you select this option.
Listen Only If you will be just listening, you can select and Online Rooms will use your computers default speakers to output the session sound.
The Interface
As a participant you will see the moderators presentation on the white space in the middle of your screen, they will control the navigation of slides.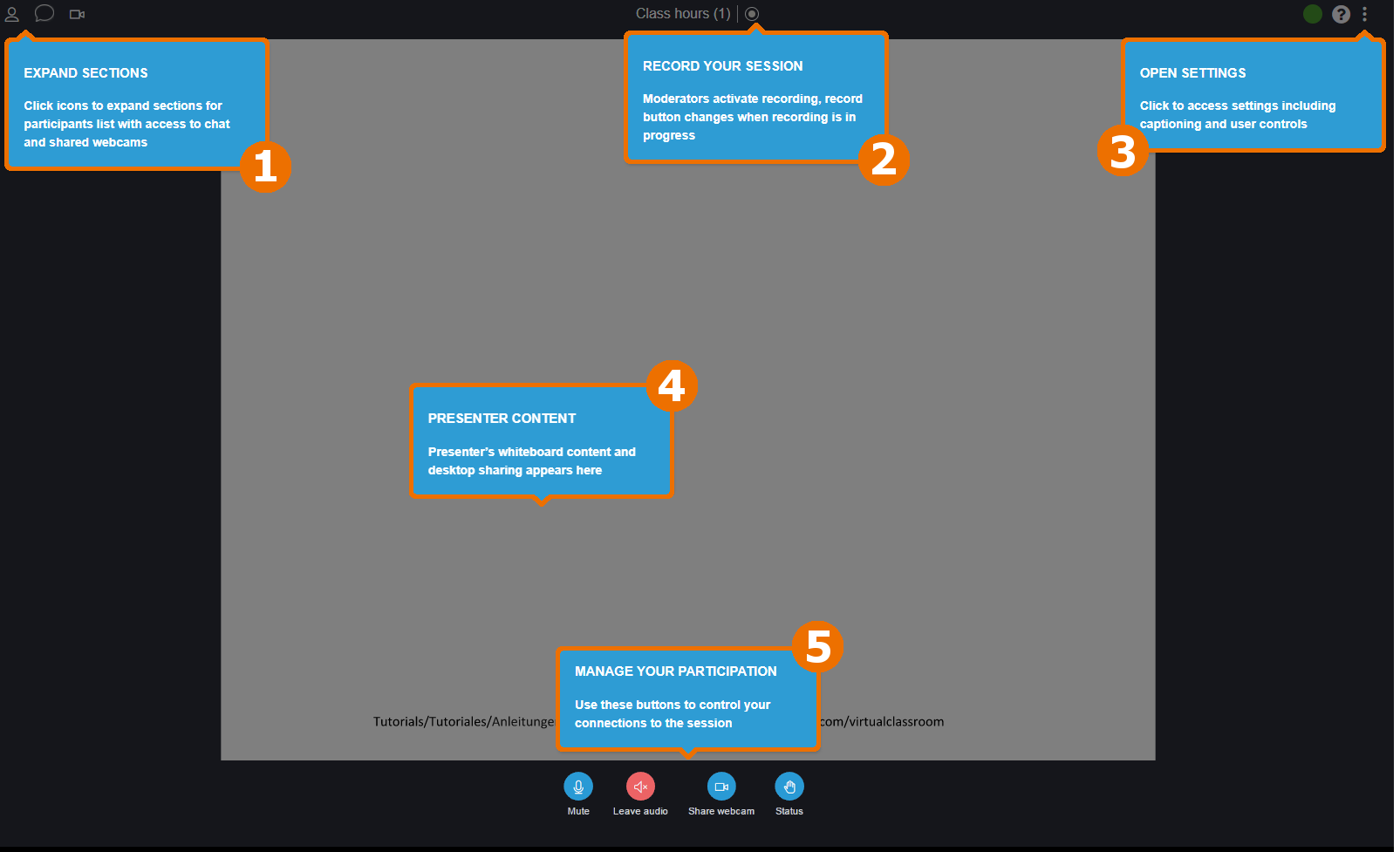 Expand sections: Click to expand and view the Participants list, chat and shared webcam broadcasts. selecting this icon will open the list of room participants and the chat tool. You can chat to the group in the Public chat, or click on any participant to chat directly with them.
Record your session: If the moderator has started recording, this button will be red.
Open settings: Toggle fullscreen, access audio settings and logout.
Presenter Content: Presenters whiteboard content, which can include powerpoint presentation or manually entered content will appear here.
As well if your presenter shares their desktop, you will see it here.
Manage your participation: Here you are able to mute your microphone, leave the session, share your webcam or set your status (raise hand). It is recommended that you always mute your microphone unless you are called upon to speak.
Joining a Breakout Room
When your instructor initiates Breakout Rooms, you will receive an invitation to join your assigned Breakout Room session. You will remain connected to the main session while in a Breakout Room, but your audio connection will disconnect from the main session. Click Join to enter the Breakout Room. Prior to entering the Breakout Room, you will be prompted to choose to join the meeting Audio or Listen only.